Fighting Words by Ronda Rousey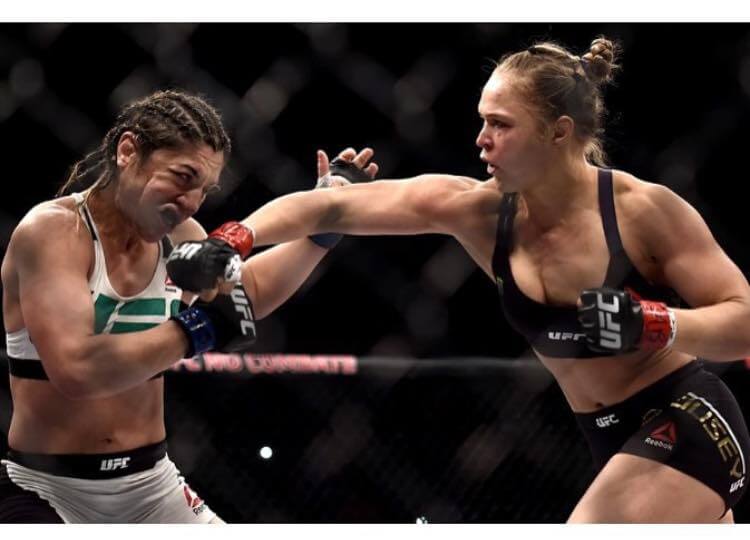 |
VIDEO:  Check out this awesome interview of Ronda Rousey on fighting and Eminem
Besides the periodic blips in the system like interim titles and also prolonged suspensions, mixed martial arts is the purest sport on the planet. It regularly showcases its potential to surprise, satisfy and hunger its followers. There's no whining, no scandals, no cash mongers and no cereal box title belts. The sport is as determined as it can be. The training, dedication, hard work and sacrifice that enters being a professional MMA boxer is past our comprehension. It's an intercontinental, my nation vs. yours all-out battle. It's a heel kick to the face or an elbow off the octagon. It's a five-round, ground-and-pound fighting royal. It's fighting, the most natural recreation recognized to man.
Minus the few guys in charge that really care about the sport, the majority of sports managers only care about generating income. Now while that's all well and great considering it's their personal cash their putting on the line, it still eliminates from the sport's integrity. Whether it's the wellness of their players, the financial durability of their employees or the total well-being of their team, managers are commonly ducking as well as escaping morally vital obligations in favor of monetary success. Yet in mixed martial arts, where individual owners are as plentiful as non-fighters, it's every guy for himself. Sure, providers like the UFC run the world of MMA and are often mocked for not paying their fighters nearly enough, but the truth of the concern is that nobody is making these competitors do something they do not wish to. Each guy has his personal opportunity at reaping the benefits of sponsorship while putting in the amount of time as well as effort that they deem needed.
"I could just try to do the best that I can in the moment, but I don't really think that any of us really comprehend what's going on right now until we're looking at it in hindsight. And that's the kind of thing, I think it's kind of funny. There's so many people who just live to hate me, but when I'm gone, they're going to miss me. They really are."
For Rousey (12-0), things only gets bigger from here. The UFC's undefeated female bantamweight champion is slated to defend her title Nov. 15 against Holly Holm in front of a crowd of potentially 70,000 fight fans in Melbourne, Australia. If the event's turnout matches expectations, UFC 193 would smash the promotion's previous attendance record held by UFC 129.
Between movies, marketing campaigns, and a tireless fight schedule, Rousey is perhaps the most sought after mixed martial artist since the heyday of Brock Lesnar. And yet her busy calendar rarely reflects itself in her fights. Of her 12 professional wins, 11 have ended inside the first round, the last four of which have ended in 66 seconds or less.
With those quick victories has come an aura that's drawn repeated — and admittedly lazy — comparisons to Mike Tyson. In the mainstream media, Rousey fights have become bigger than any others.
That spotlight generates a unique pressure hard to describe for the uninitiated, and Rousey said that same pressure has become an advantage she can levy against opponents, most of whom are strangers to the bright lights.