Never Underestimate The Influence Of Robbie Lawler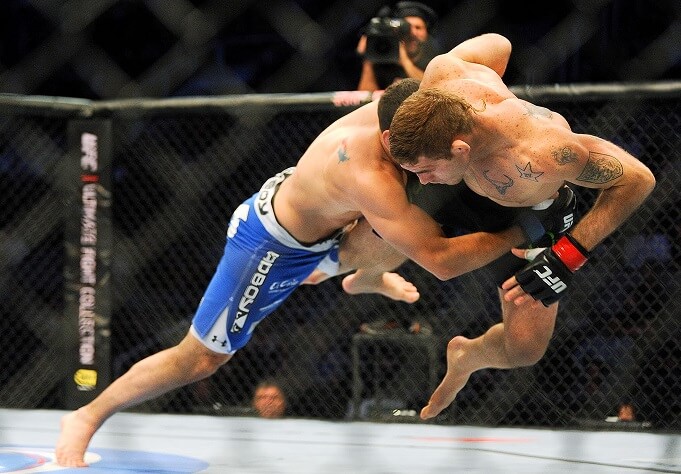 |
Robbie Lawler def. Rory MacDonald via TKO (punches)
LAS VEGAS – Robbie Lawler s first welterweight title defense was in no way easy. The bloody, back-and-forth UFC 189 war with Rory MacDonald came to a close in the final round when a Lawler punch cracked MacDonald on his already badly damaged nose and sent him crumbling to the canvas.

The welterweight title bout was the co-main event of today's UFC 189 event at MGM Grand Garden Arena in Las Vegas. It aired pay-per-view following prelims on FOX Sports 1 and UFC Fight Pass.
Lawler (26-10 MMA, 11-4 UFC) and MacDonald (18-3 MMA, 9-3 UFC) wasted no time engaging in Round 1. MacDonald looked to throw body kicks and straight punches while Lawler threw some heavy looping punches at the head of his opponent. After the pace slowed and the two men began to feel each other out, MacDonald shot for a takedown which was stuffed by Lawler.
Both men landed some decent punches in the round with MacDonald utilizing a long straight right and Lawler throwing hard with his lead right, reddening the face of the challenger.
Lawler stuck MacDonald with a stiff jab to start out Round 2. MacDonald landed a good head kick that Lawler shrugged off. In addition, MacDonald continued to go back to the body with kicks, lowering the arm of Lawler some as he looked to defend.
CHECK OUT MORE ON THE NEXT PAGE..