UFC Champion Conor McGregor Suddenly Announces His Retirement! Is This For Real??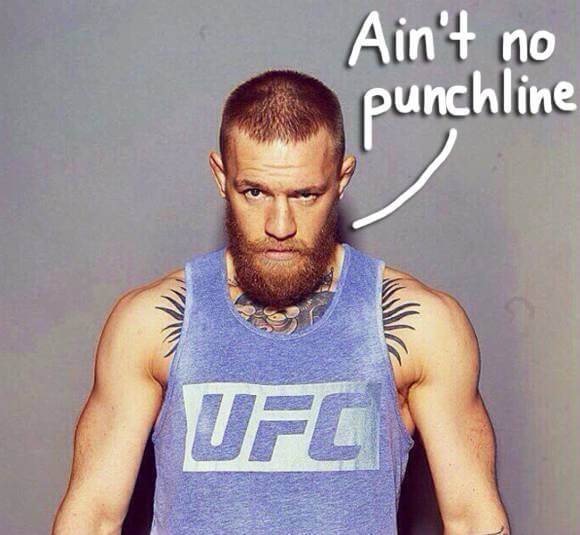 SHOCKING VIDEO: "WARNING CRUSOME FOOTAGE" Mentally Challenged Karate Master is Beaten To DEATH By MMA Fighter CLICK HERE TO WATCH http://judoweekly.com/judos-greatest-kos-fight-videos… Like our Page Share THIS VIDEO…
http://www.breakthroughproducts.net/ordericewave.html
http://taekwondoextreme.com/taekwondo-100-greatest-kos-fight-videos/
http://extremekaratenews.com/karate-greatest-kos-fight-videos/
Late April Fools'…?
UFC star Conor McGregor sent fans into a meltdown after announcing that he has "decided to retire young."
Related: Nate Diaz Tells Justin Bieber To 'Shut Your B*tch Ass Up'!
But because the announcement was so casual and seemingly came out of nowhere, not too many people believe him!
On Tuesday, the Irish fighter shared on Twitter:
I have decided to retire young.
Thanks for the cheese.
Catch ya's later.
Conor McGregor (@TheNotoriousMMA) April 19, 2016
Minutes after the featherweight champion's shocking announcement, fans flooded social media with equal parts devastation, confusion, and rage — all things that happen during a UFC cage match.
Since the announcement is coming mere months before his highly-anticipated rematch against Nate Diaz at UFC 200, many fans are speculating that the 27-year-old is just trolling — especially after a follow up tweet from his coach John Kavanagh:
Well was fun while it lasted
Coach Kavanagh (@John_Kavanagh) April 19, 2016
While the questionable message just added fuel to the troll-theory, MMA reporter Ariel Helwani assured fans that McGregor's message was NOT a prank, sharing:
Multiple sources are adamant at this time that McGregor's tweet isn't a joke, troll job or hoax of any kind. Reason(s) behind it is unclear.
Ariel Helwani (@arielhelwani) April 19, 2016
It sounds like there's a lot more to the story here.
McGregor has been reportedly undergoing an intense training camp ahead of his July 9 rematch in Las Vegas, where he planned to fight Diaz at welterweight level — which is a few solid weight classes above his natural featherweight category.
Related: New UFC Champ Miesha Tate Trash Talks Ronda Rousey!
But if the champ really IS retiring, his opponent isn't too worried about it. After McGregor's retirement tweet, Diaz jabbed out a quick response:
I guess my work here is done I'm retiring too
Nathan Diaz (@NateDiaz209) April 19, 2016
It sounds like Diaz is chalking this up to a nothing more than social media prank from his rival — and he's not alone!
Ch-ch-check out all the HIGHlarious fan responses (below) who are in disbelief and/or denial over McGregor's announcement!
.@TheNotoriousMMA pic.twitter.com/hBuZEpaBVr
MMA GIFS (@mma_gifs_) April 19, 2016
@TheNotoriousMMA pic.twitter.com/sdz0KQXgsx
Perry (@FPS_Perry) April 19, 2016
@TheNotoriousMMA pic.twitter.com/zbJHoovgHS
Joe Field (@fieldjoe4) April 19, 2016
… @TheNotoriousMMA pic.twitter.com/DRfcfE41iM
Footy Accumulators (@FootyAccums) April 19, 2016
So the early leader in the "what cheese is @TheNotoriousMMA thankful for?" debate is….. pic.twitter.com/Yi5knkSUQM
Karl O'Shaughnessy (@OShaughnessyK) April 19, 2016
@TheNotoriousMMA pic.twitter.com/JbzFkRyFv0
Ryan McLaughlin (@RyanMcL2) April 19, 2016
Do YOU believe Conor??
[Image via Instagram.]
Read more: http://perezhilton.com/2016-04-19-conor-mcgregor-retiring-twitter-prank-real-ufc
About The Author
Judo DoJo
Judo (meaning "gentle way") is a modern martial art, combat and Olympic sport created in Japan in 1882 by Jigoro Kano . Its most prominent feature is its competitive element, where the objective is to either throw or takedown an opponent to the ground, immobilize or otherwise subdue an opponent with a pin, or force an opponent to submit with a joint lock or a choke. Strikes and thrusts by hands and feet as well as weapons defenses are a part of judo, but only in pre-arranged forms (kata,) and are not allowed in judo competition or free practice. A judo practitioner is called a judoka.