Ronda Rousey will leave UFC belt at Flavio Canto's judo school in Rio de Janeiro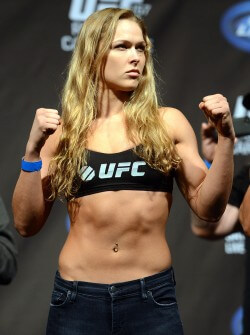 Instituto Reação will receive another big gift on Tuesday
A judo school and social project owned by Olympic bronze medalist Flavio Canto, that was surprised with a $30,000 check from UFC star Ronda Rousey in March, will be the home for "Rowdy's" belt.
Rousey, who promised to leave her championship belt in a special place in Brazil after beating Bethe Correia at UFC 190, will deliver the gift on Tuesday afternoon, three days after stopping "Pitbull" in 34 seconds at the HSBC Arena, MMAFighting.com has learned.
Speaking with the media after UFC 190's open workouts, Rousey explained why she decided to leave her belt in Brazil.
"Bethe did have one thing right," Rousey said on Wednesday. "She said that the Brazilian people deserve to have the belt left here. So I've decided that after I win it, I'm going to make sure that when I have the belt, I don't take it home with me. I'm going to give it and make sure that it stays someplace in Brazil as my gift."
The UFC star visited the judo school last September, and taught a judo class to the kids who train under the social project. Watch the video below.
About The Author
Judo DoJo
Judo (meaning "gentle way") is a modern martial art, combat and Olympic sport created in Japan in 1882 by Jigoro Kano . Its most prominent feature is its competitive element, where the objective is to either throw or takedown an opponent to the ground, immobilize or otherwise subdue an opponent with a pin, or force an opponent to submit with a joint lock or a choke. Strikes and thrusts by hands and feet as well as weapons defenses are a part of judo, but only in pre-arranged forms (kata,) and are not allowed in judo competition or free practice. A judo practitioner is called a judoka.