Conor McGregor Makes Sensational Announcement Regarding His Retirement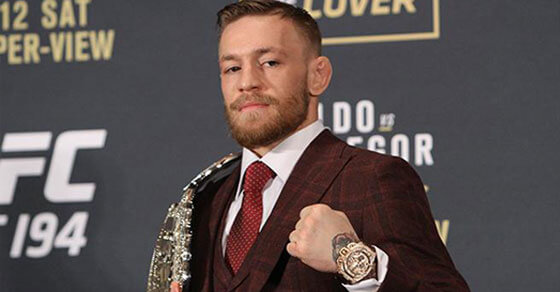 |
SHOCKING VIDEO: "WARNING CRUSOME FOOTAGE" Mentally Challenged Karate Master is Beaten To DEATH By MMA Fighter CLICK HERE TO WATCH http://judoweekly.com/judos-greatest-kos-fight-videos… Like our Page Share THIS VIDEO…
http://www.breakthroughproducts.net/ordericewave.html
http://taekwondoextreme.com/taekwondo-100-greatest-kos-fight-videos/
http://extremekaratenews.com/karate-greatest-kos-fight-videos/
In a sensational statement posted on his Facebook page, UFC fighter Conor McGregor has revealed that he is not retired, and will be back for his "revenge".
In the lengthy post, McGregor said that he has been caught up in the promotion and PR side of his job, and therefore lost focus on fighting.
"I am just trying to do my job and fight here.
I am paid to fight. I am not yet paid to promote.
I have become lost in the game of promotion and forgot about the art of fighting.
There comes a time when you need to stop handing out flyers and get back to the damn shop.
50 world tours, 200 press conferences, 1 million interviews, 2 million photo shoots, and at the end of it all I'm left looking down the barrel of a lens, staring defeat in the face, thinking of nothing but my incorrect fight preparation. And the many distractions that led to this."
McGregor was pulled out of UFC 200 because he refused to do the promotional work for it. In his statement, he says:
"Just for this one, where I am coming off a loss, I asked for some leeway where I can just train and focus. I did not shut down all media requests. I simply wanted a slight adjustment.
But it was denied.
There had been 10 million dollars allocated for the promotion of this event is what they told me.
So as a gesture of good will, I went and not only saved that 10 million dollars in promotion money, I then went and tripled it for them.
And all with one tweet.
Keep that 10 mill to promote the other bums that need it. My shows are good.
I must isolate myself now.
I am facing a taller, longer and heavier man. I need to prepare correctly this time.
I can not dance for you this time.
It is time for the other monkeys to dance."
Conor announced his retirement a couple of days ago…
…But ended his statement by revealing that he was very much still in the game:
"I'm doing what I need for me now.
It is time to be selfish with my training again. It is the only way.
I feel the $400million I have generated for the company in my last three events, all inside 8 months, is enough to get me this slight leeway.
I am still ready to go for UFC 200.
I will offer, like I already did, to fly to New York for the big press conference that was scheduled, and then I will go back into training. With no distractions.
If this is not enough or they feel I have not deserved to sit this promotion run out this one time, well then I don't know what to say.
For the record also –
For USADA and for the UFC and my contract stipulations –
I AM NOT RETIRED."
You can read his full post over on his Facebook page.
Read more: http://www.hellou.co.uk/2016/04/conor-mcgregor-makes-sensational-announcement-regarding-his-retirement-88967/