The MMA Hour: Episode 432 (w/ Newell in studio, Danis, Edgar, Lewis, Gotti III, more)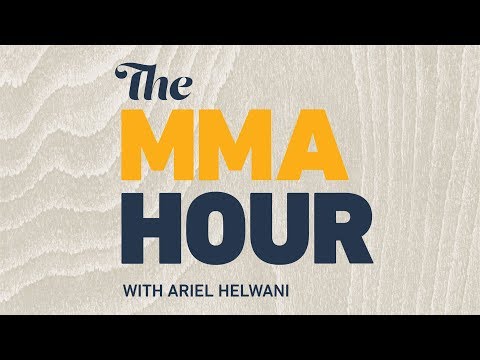 |
The Mixed Martial Arts Hour is back in your life. Below is a rundown of Monday's show:
1:00 p.m. ET — Dillon Danis will discuss his successful MMA debut on Saturday at Bellator 198.
1:25 p.m. — Frankie Edgar will look back at his win over Cub Swanson last week in Atlantic City.
1:45 p.m. — Derrick Lewis will preview his UFC 226 battle against Francis Ngannou.
2:05 p.m. — Kenny Florian will stop by to discuss some exciting projects he has going on.
2:25 p.m. — Nick Newell will join us in studio to discuss his upcoming debut on Dana White's Tuesday Night Contender Series.
3:25 p.m. — John Gotti III, the grandson of the infamous mobster John Gotti Sr. and the son of John Gotti Jr., will talk about his budding MMA career and upcoming fight.
3:45 p.m. — Chad Mendes will discuss his two-year suspension coming to an end and his long-awaited return to the UFC.
4:05 p.m. — Jake Shields will preview the upcoming inaugural season of PFL.
4:25 — Floyd Mayweather Jr.'s long-time security guard Greg La Rosa will talk about recently getting shot and Mayweather's flirtation with MMA.
4:45 p.m. — The MMA (After) Hour will air exclusively on Twitter. We'll showcase Ric's Picks and answer your questions sent via the hashtag #themmahour.
Watch the show live below beginning at 1 p.m. ET / 10 a.m. PT / 6 p.m. GMT.
Subscribe: http://goo.gl/dYpsgH
Check out our full video catalog: http://goo.gl/u8VvLi
Visit our playlists: http://goo.gl/eFhsvM
Like MMAF on Facebook: http://goo.gl/uhdg7Z
Follow on Twitter: http://goo.gl/nOATUI
Read More: http://www.mmafighting.com
MMA Fighting is your home for exclusive interviews, live shows, and more for one of the world's fastest-growing sports. Get latest news and more here: http://www.mmafighting.com