High stakes for fallen UFC star Jon Jones both inside octagon and out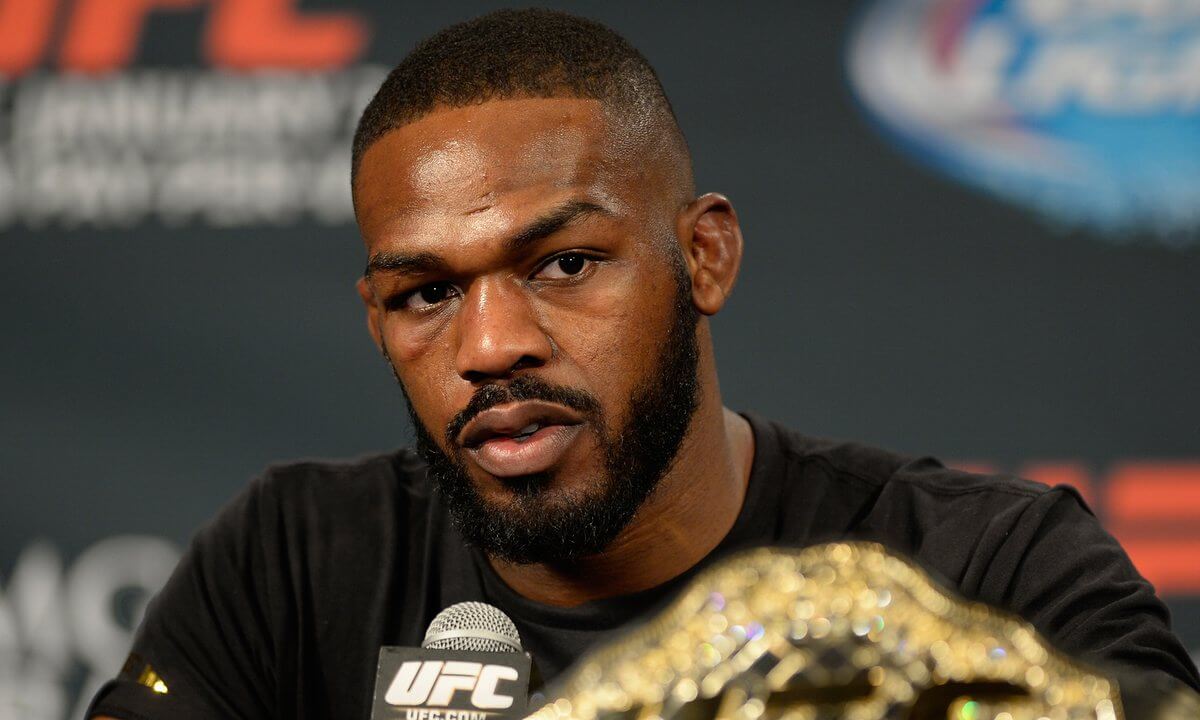 SHOCKING VIDEO: "WARNING CRUSOME FOOTAGE" Mentally Challenged Karate Master is Beaten To DEATH By MMA Fighter CLICK HERE TO WATCH http://judoweekly.com/judos-greatest-kos-fight-videos… Like our Page Share THIS VIDEO…
http://www.breakthroughproducts.net/ordericewave.html
http://taekwondoextreme.com/taekwondo-100-greatest-kos-fight-videos/
http://extremekaratenews.com/karate-greatest-kos-fight-videos/
Josh Gross: Once the consensus pound-for-pound best in the UFC, Jones continues to battle his toughest nemesis: turmoil of his own making
After back-to-back nights locked in a detention center during the peak of a training camp for the most important fight of his career, Jon Jones will awake Thursday and head to an 8am court appearance for felony parole violation.
The gifted, troubled and deposed 28-year-old UFC light heavyweight champion allegedly participated in a drag racing incident last week in his adopted hometown of Albuquerque, New Mexico, receiving five moving violations that sent Jones into a bodycam-captured tirade against Jason Brown, the officer who pulled him over. None of that is supposed to land a person in jail, but court orders and the New Mexico Corrections Department, which administers Joness 18-month supervised probation handed down following an injury-inducing hit-and-run accident one year ago, arent things to be trifled with.
Adding another irksome anecdote to the saga of the Jones boys from Rochester, New York, Jon, the fighter, conducted himself in such a way outside the cage that it may yet again slow him down inside one. A frustrating fact considering Joness propensity for making poor choices appears to be the only impediment to his all-time greatness.
Less than four weeks ahead of his scheduled return to the octagon the first bout for Jones after 15 life-exposing and -altering months Jones faces down an old nemesis. Not current beltwarmer Daniel Cormier, whom Jones seems to genuinely despise, but something more significant and threatening: turmoil of his own making.
Think about what mustve been going on in Joness mind as he was cited for what amounts to a normal part of the day for many young men across America. Jones felt a police officer from a department that he literally ran from was being unfair to him. So he lashed out. Maybe Jones reacted to the fact that here he was, sober, getting pinched for revving the engine of his Corvette, a trifling act compared to others on his resume. It could be Jones knows he has no rope to play with, and another screw up might be the one that costs him dearly like two nights locked up in the middle of camp, or a cancelled fight, or a what-if career so he barked and blamed in a show befitting an affected and privileged person. After all, he received another pass when he was pulled over in February and failed to produce his license, registration or proof of insurance. But not this time.
If the drag racing allegations are true Jones sure didnt think so a childish act could turn into so much more adult. Stakes are at their highest for Jones while he needs to remain focused on staying sober, which we know he was not ahead of the first fight with Cormier.
Of all the locations Joness frustration could have come from, one hopes its that he finally realized whats at stake. But then you wonder why a driven person with a terrible driving record so much hanging in the balance would screw around in fast cars with big engines. For someone so combustible, how is Jones even in charge of his own transportation at this point?
Jones has already issued his mea culpa. Not many people get those. Fewer are allowed more than one. He promised to get sober. He enjoyed speaking with kids and found motivation in different ways. Jones has the ability to evoke sympathy and was given a get out of jail free card, and yet, three weeks before UFC 197, drama has descended on another one of his fights.
I expect Joness rematch with Cormier to happen mostly because history suggests it will, and if the light heavyweights do square up they should deliver one of the top fights of the year. However on the off chance a tap of the gas keeps Jones from fighting at UFC 197 in Las Vegas, not all will be lost. There are more than a handful of fights in April, a busy month for MMA across the globe, worth watching closely.
Ben Rothwell (36-9) v Junior dos Santos (17-4)
Big Ben is rolling, taking four straight stoppages including a stunning choke of Josh Barnett. Rothwell has never looked better, and a win brings an improbable title shot into light. JDS has spun his wheels since the unsuccessful rematch with Cain Velasquez, alternating wins and losses. A defeat to Rothwell would make JDS 3-4 since 2012, but a win puts him right at the top of the list for compelling fights. They meet in Zagreb, Croatia, at UFC Fight Night 86, on 10 April.
Ben Askren (14-0) v Nikolay Aleksakhin (17-3)
Ben Askren has been a suffocating welterweight, and for several years considered among the best mixed martial artists operating outside the UFC. Now the American wrestler moves up in weight to 185lbs as a reaction to weight cutting rules instituted by Asian MMA promoter One FC in the wake of a fighters death from dehydration. Askren takes on another 170-pound convert in Russias Nokilay Aleksakhin, 15 April in Manila, in a welterweight title fight at 185 pounds. Unified Rules need not apply.
Daniel Belluardo (5-0) v A.J. McKee (3-0)
The fighter to watch is McKee, son of longtime competitor Antonio McKee. AJ was raised in the gym and through three fights has shown a smoothness to his finishing ability that suggests big things. Belluardo, a 21-year-old from Milan, which is much closer to Bellator 152s host city of Torino, Italy, than McKees hometown of Long Beach, California, hasnt faced anyone like the American. Belluardo can make a huge statement for Italian MMA if he finds a way to win.
Khabib Nurmagomedov (22-0) v Tony Ferguson (20-3)
Whether or not Jones fights Cormier this month, this matchup of lightweights is my favorite contest coming up. Nurmagomedov hasnt fought in two years and the UFC did him no favors by matching him with the buzzsaw that is Tony Ferguson. Ring-rust and injury questions only adds to the anticipation. The Dagestani bear wrestler has so far been able to manhandle the best at 155, including current champion Rafael dos Anjos, but Ferguson brings all sorts of prickly things with him into the fight, and it should amount to a tremendous bit of MMA on FOX when the UFC heads to Tampa, Fla., on 16 April.
Andrey Koreshkov (18-1) v Benson Henderson (23-5)
Since Ben Askren left, the Bellator welterweight division has been slow to gain traction. Former UFC lightweight champion Benson Henderson expects attention to follow him as he makes his Bellator debut at the Mohegan Sun in a title challenge against talented once-beaten titleholder Andrey Koreskhov. I chatted with Henderson on Wednesday and he expressed how much he would like to become the first WEC, UFC and Bellator champion. A win over the Russian on 22 April in Uncasville, Connecticut, would mark Hendersons first title at 170lbs. If Koreshkov retains it would lend credence to the idea that Bellators welterweight class post-Askren is worth paying attention to. It should be a fun fight.
Demetrious Johnson (23-2-1) v Henry Cejudo (10-0)
Put up or shut up time for Henry Cejudo, a gold medal winning wrestler for the US in 2008. His career has been managed very carefully to this point. Did the grooming prepare him well enough for Demetrious Johnson, who could very well be the most dominant fighter in the sport right now? Athletically Cejudo can measure up. Wrestling-wise he can obviously do some things. Hes tried to mix it up, but hasnt appeared at ease in the Octagon. Johnson is scientific in his approach and exact in his results. No one mixes levels better. Mighty Mouse versus the Olympian, fun stuff in Las Vegas on 23 April.
Read more: http://www.theguardian.com/sport/2016/mar/31/high-stakes-for-fallen-ufc-star-jon-jones-both-inside-octagon-and-out
About The Author
Judo DoJo
Judo (meaning "gentle way") is a modern martial art, combat and Olympic sport created in Japan in 1882 by Jigoro Kano . Its most prominent feature is its competitive element, where the objective is to either throw or takedown an opponent to the ground, immobilize or otherwise subdue an opponent with a pin, or force an opponent to submit with a joint lock or a choke. Strikes and thrusts by hands and feet as well as weapons defenses are a part of judo, but only in pre-arranged forms (kata,) and are not allowed in judo competition or free practice. A judo practitioner is called a judoka.