Click Link For The Most Intense MMA Fight in History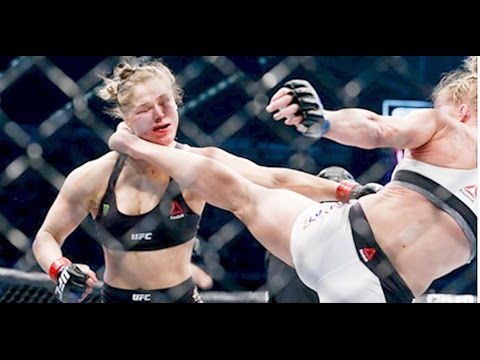 |

Holly Holm Responds to Ronda's Fight Being Fixed. Claimed by Taz.
Speaking on CBS Radio's The Taz Show: Bodyslams and Beyond earlier this month, Taz claimed the result was "a work." He claimed the UFC wanted a new champion with Rousey set to take a break from the sport, as is often done in professional wrestling, per Bryan Altman of CBS Local Sports. However, Holm has denied that is the case.

Holly Holm (born October 17, 1981) is an American mixed martial artist who competes in the Ultimate Fighting Championship (UFC) bantamweight division. She is the current UFC Women's Bantamweight Champion. She is also a former professional boxer and kickboxer. She was a multiple time world champion in boxing, defending her titles 18 times in three weight classes. Her most notable win in mixed martial arts (MMA) occurred at UFC 193, when she captured the bantamweight title, and gave Ronda Rousey her first loss in the sport.
"No. No MMA fighting, especially with the UFC is going to be set up," she said on Larry King Live (h/t Nick Paglino of Wrestle Zone). "These fighters go in there, and there's a reason Dana (White, UFC President) gives out those performance bonuses."
http://bleacherreport.com/articles/2592150-holly-holm-responds-to-tazs-claim-ronda-rousey-fight-was-fixed